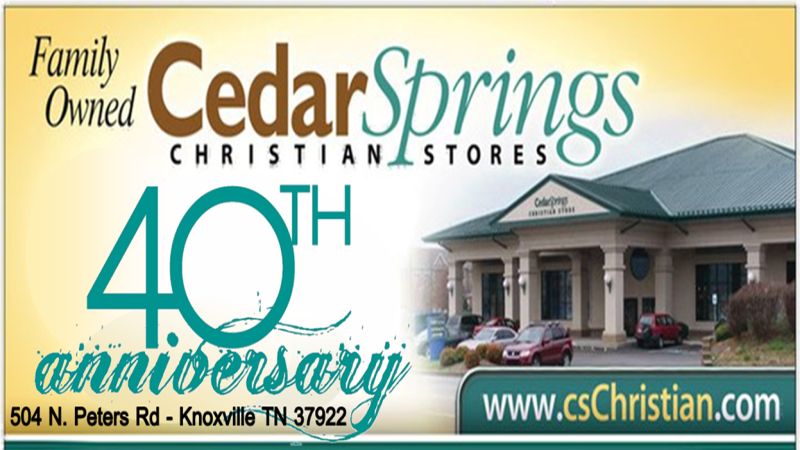 Who is Cedar Springs Christian Stores?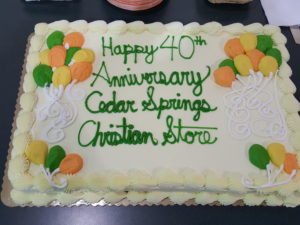 Cedar Springs Christian Stores is now 40 years old!  Humbly beginning in 1978 in an 800 square foot store front in Cedar Springs shopping center on Kingston Pike in West Knoxville, Tennessee.  Back in the day even that 800 square feet seemed large. With no customers for large blocks of time, we would often pass football in that small space without fear of knocking over the few spinner racks we had!
Click here to see the Knoxville News Sentinel's article on our 40th Anniversary!
I'm Link McGinnis, son of the founders of Cedar Springs Christian Stores (CSCS).  My father, Curtis McGinnis worked as a machinist in Oak Ridge, Tennessee. During that time he really began searching the scriptures and wanted to know more and more. Resources were scarce in that day and friends continually urged Dad to start his own Christian bookstore.  A lot of prayer, a deep breath and a huge step of faith, he and Mom (Lois McGinnis) opened the store with very little knowledge of what they were getting into.  They both continued to work their full-time jobs in Oak Ridge and then work on store business in the evenings.  It was a family affair from the beginning. Well, I did very little as a 12 year old, I'm sure. But, my sister Vicki Geist, at 16 became very involved and managed some areas of the store even at that early age.  (Vicki and I both still work in the stores today after short interludes in other areas)
Knoxvllians were very appreciative of the new venture and the churches were also very supportive.  Little by little the store's traffic and impact in the community began to grow – and so did the store.  As little stores moved out on both sides of CSCS, Dad was able to knock down walls and enlarge his territory giving more room for those browsers of Albums (yes, in the true sense of the word – round discs which turned at 33 rpm transporting sound through a needle to tiny speakers.  And, then came cassettes and 8-tracks!  We were moving up in technology!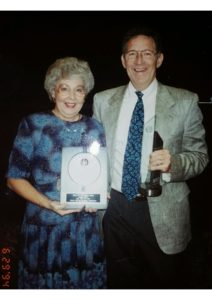 But, most of the store was managed by hand. In those days, the store ran without the aid of a computer – a what?  Little bookmarks were inserted in books. When books were purchased, the bookmarks were collected and became the next order.  Imagine!
We've come a long way from that time.  Today, CSCS supports two communities in over 40,000 sf of space.  The West Knoxville store has about 17,000 sf of retail space and the North Knoxville at Clinton Hwy sports a new design, efficiently using 7,000 sf.  Computers help with the workflow and managing inventory, for sure.  But, I believe the humbleness of purpose and mission still remains.  It's always been and will continue to be about the people.
[Update: 2016 September – We have closed the Clinton Hwy store due to continued decline in customer traffic and sales over the past decade. Our staff at that store loved to serve the members of that community and worked very hard to make it work there.  But, in the end, we were unable to cover the costs of doing business in that location for many years and just could not afford to continue to increase the deficit.  Please continue to grow your faith and contribute to the community in West Knoxville. ]
So, who is Cedar Springs Christian Store?  It's YOU!  CSCS exists for you and by you.  Over the years, CSCS has employed literally thousands of Knoxvillians – from the young to the seasoned.  We've had the pleasure of working with native and transplanted Knoxvillians of every race.  All of them have had one, united mission – to serve you and support your walk of faith!
Thanks Knoxville, for letting us serve you and making Cedar Springs Christian Stores one of the premiere Christian Bookstores in the Nation!